Coboi Urban Lab Workshop 3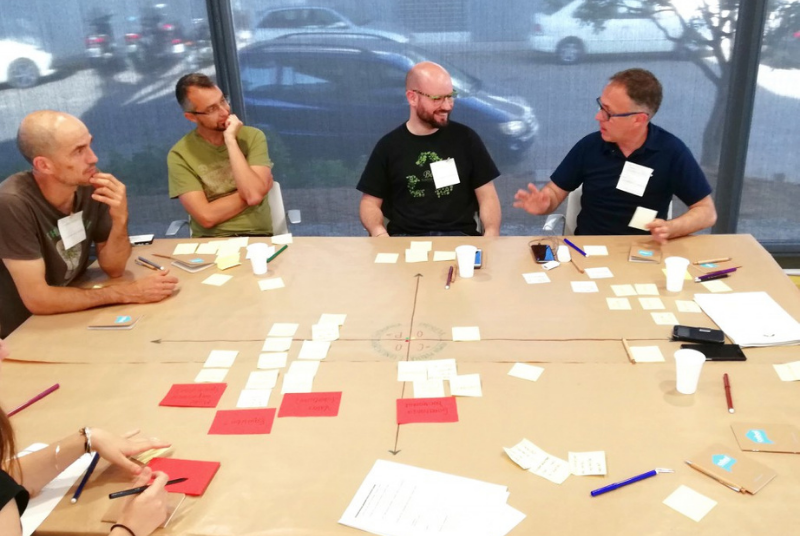 Objective
The purpose of this workshop was to take the insights from the first two workshops and start the co-creation of a project or initiative to sustain a community in Coboi lab. The co-creation will be done by prototyping the proposals designed in the first workshop. The workshop aimed to share resources and prototyping tools, at the same time to experiment and create physical, low definition prototypes that will allow the continuity of this project.
Target public: Coboi lab community; citizens with projects or active initiatives in Baix de Llobregat.
Methodology: Design Thinking Process focus on the prototyping phase. We used the double diamond framework. Explained what is prototyping and experimented with different tools.
Conclusions
The main objective of the workshop was accomplished, Coboi Lab shared resources and tools to prototype projects. They aimed at prototyping some of the proposals that were discussed during the first workshop to end this cycle with experimentation and action. Participants created two prototypes or initiatives, one was an Instagram account to share social projects that are being developed in the Baix de Llobregat area and the other one is a cycle of itinerant monthly events with topics that are going to be proposed by the community.
The main challenge and learning detected by the team is the difficulty to share responsibility and accountability for the implementation of initiatives. When participants don't have a direct benefit from the proposed solution and they are aware of the existence of a public institution as the organizing entity,  auto-organization and shared responsibility becomes very difficult to implement. 
Coboi lab functions as a challenge-based public lab and it designs solutions using a multi-stakeholder methodological approach. One of the main learnings from this process is that Coboi lab has different levels of participants as its community: first, there is a permanent community of change agents, people or organisations with innovative projects with a direct interest in the lab as a learning platform, then there is an itinerant, challenge-based community as well. This community is itinerant and temporary, it depends on the strategic projects Coboi lab is developing in a specific period.