Region Skane Urban Lab Traineeships – Learning Lab for Action and Policy Development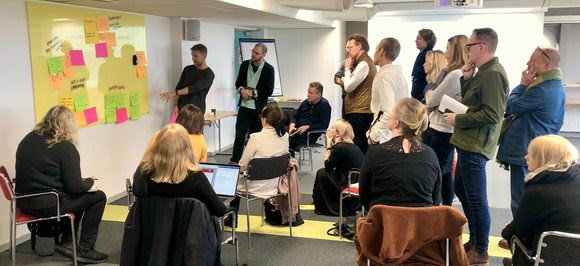 Urban Lab Region Skåne organised a series of online traineeships that took place from September to November 2020. Using a range of digital collaboration tools, the participants of these three events explored how we can partner up over organisational borders to co-create futures for culture, arts and city/regional development.
This learning process draws on experiences from the work in Skåne, Sweden – specifically the Urban Lab that the public regional actor Region Skåne convened from September to November 2019. However, all participants were invited to bring their experiences and questions to co-create knowledge in a dynamic, highly participatory online learning process.
Offering valuable peer-to-peer learning that aims to stimulate creativity and support participants to articulate new ways forward in their context, the traineeship presented an explorative process which also aimed to strengthen the capacity to host "labs". In these labs, actors co-create learning, initiatives, and policy briefs in the area of arts, culture and societal development. We hope that this process will result in material useful for the continuous work of the CCSC project and all participants.
Nearly 450 people from across Europe were invited to participate and we welcomed partners in the CCSC network together with their local/regional partners in governments, public agencies and independent organisations, as well as other interested participants who wished to develop their own partnerships and practices. We were delighted to collaborate with 25 registered participants on Zoom and a Miro board.
Process outline
Session 1: 8 Sept 13.00 – 16.00
Session 2: 6 Oct 09.00 – 16.00 (main event)
Session 3: 12 Nov 09.00 – 11.00
Participants who had not attended the first session, were welcomed to join the second session on October 6, which was the main event in this series.
Facilitators
David Ershammar is a process designer and facilitator supporting public and non-governmental organizations to better co-create work in the areas of social change and sustainability. He was lead in the Skåne Urban Lab process.
Jesper Hök support groups to co-create and learn around leadership and strategy and are right now involved in several initiatives to support actors in the fields of culture and arts to strengthen their role in society.
Ola Jacobson, Executive Officer of CCI & International Affairs, Region Skåne Cultural department.
Ola Jacobson coordinated the participation of Region Skåne in the Cultural and Creative Spaces and Cities project.
November workshops
In November 2020, Region Skåne organised two online workshops engaging all levels of the Cultural sector in the region, with the aim of sharing experiences and learning from each other regarding the pandemic and the restrictions that have followed it.
The workshops gathered approximately 120 artists, creators, developers, civil society representatives and decision makers about the challenges and opportunities that have arisen from the changed conditions of the pandemic. The uncertainty that exists has made it more important than ever to learn from each other. The crisis has had a hard impact on many people, but when the establishment is disrupted, openings are sometimes also created.
Examples of questions that Region Skåne interrogated included:
How have we been affected and what have we learned that we want to continue with and develop further?
How can we together take advantage of people's initiative and the resources that exist in Skåne?
What is going on and how can we work together to strengthen the development of society and the conditions for artistic creation?
The goals
The goal is to become inspired and learn from each other and to discuss what needs to be done to contribute together to a continued strong development of cultural life in Skåne. The hope is that after the dialogue meetings we will all bring something new to everything from business development to political priorities – new insights, new thoughts, new knowledge.
Urban Lab Skåne Background
During October to November 2019, Region Skåne invited stakeholders across the region working at many different levels and sectors in society to three workshops. The purpose was to discuss how we can develop new methods for co-creating policies and activities in order to make better use of culture in society development. How can the supporting structures for culture, business and other sectors cooperate to a larger extent and how can the engagement and knowledge of civil society interact with and influence the political strategies for sustainable local development? What is the best way for regional governments to support local municipalities in enhancing their co-creative capacities? The process and outcome of these workshops is the starting point of the Traineeship Event.