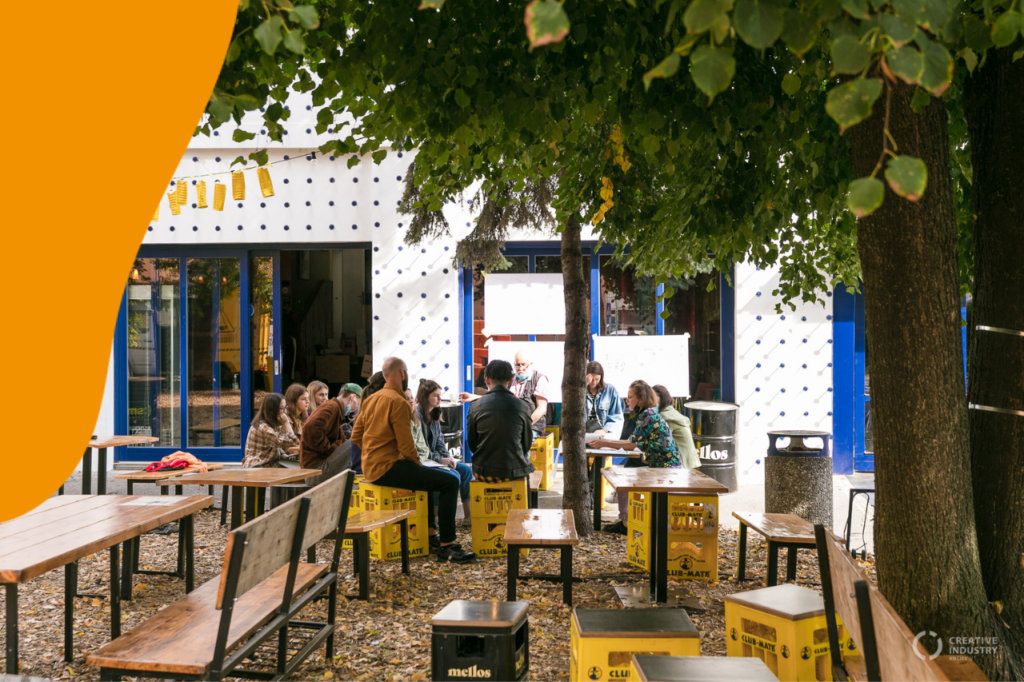 During September and October 2020, Creative Industry Kosice organised a hybrid Urban Exploration: 'Take the Creation of the City to your own Hands' that brought together a mix of digital and in-person workshops.
Gathering up to a hundred people, CIKE's Urban Exploration engaged a range of participants through a series of interactive workshops. During these activities, working together with different grassroots organisations, people demonstrated their enthusiasm to get involved and change the way things work in their city from the bottom up. Creative Industry Košice successfully brought ordinary people closer to making important decisions that matter in their City.
Explore the photo gallery here or visit the Media page.
Programme
A live-streamed lecture from the renowned data analyst Karol Piekarski from Medialab Katowice led the keynote presentation 'Exploration vs Explanation: Engaging Citizens through Data Visualizations'. Online audiences discovered what it takes to design engaging visualisations. Also, how to avoid the most common mistakes when developing tools for data sharing and presentation. This is available to watch as a webinar by visiting the CIKE website.
Four parallel workshops in Kosice introducing how a city change for the better:
Workshop: Design and technology for urban solutions with Boris Vaitovič
Wondering what an energy-producing prototype of a mug or desk looks like? Do you know that you produce so much excess energy that you could charge your phone with it? Boris draws our attention to the overproduction and luxury in which we live. He materializes known scientific findings in a visually attractive way and actively seeks out ways of using residual energy.
Boris Vaitovič works in a new media studio at FUTU in Košice. In recent years, he has focused on multimedia art installations with an ecological context. He actively cooperates with the Slovak Academy of Sciences and a team of enthusiasts with whom he creates his own hardware and software solutions. He is interested in the social impact of media art and the unique experiences it creates. Through optical illusions, miniaturization of the great, or the materialization of the invisible, he seeks to reveal hidden stories so that it directly addresses people and prompts them to reassess their surroundings.
Workshop: Critical thinking and design for a better society with Hana Skljarszka
We all have our own perspective which affects the way we perceive the world around us. Each of us carries his/her own share – job, field, age. This affects the way we perceive and evaluate ourselves, the people around us, or which problems we consider important.
However, our view is usually very limited and imperfect. Therefore, the best way to expand your horizons is to exchange opinions with others. You should be able to have discussions with others, listen, and exchange cultural views with them. In this divided society, these qualities are priceless. During the workshop, Hana, based on her successful and (especially) unsuccessful collaboration attempts, offered some tips and tricks on how to remain curious, communicate well, react in a way that avoids unnecessary conflicts and confusion, and conduct group discussions differently than we are used to. The workshop was friendly, relaxed, and playful, just like Hana.
Hana Skljarzska is a sociologist and coach at the Academy of Critical Thinking. She also leads and facilitates group discussions. For several years, she worked for a non-profit organization LEAF, where she built a network of partners, created and led experiential educational programs, and as a project manager, she assisted in the design of a new high school campus. In Košice, she helped with the preparation of the new cultural strategy for Košice and regularly volunteers with the Jewish religious community which wants to bring Jewish culture closer to the wider public.
Workshop: Urban mythology for placemaking with Mišo Hudák
Do you dream of a better and more pleasant public space? You have a burning desire to change it, but you have no idea how to do it? During Mišo's workshop participants had the opportunity to find great visible, but also invisible, places and create their identity. Mišo also offered advice on how to plan strategically and realistically while collaborating with local representatives.
Participants visited the KVP neighbourhood, which is one of the last completed collective housing projects in the country and has a high population density. All communities require plenty of services for a happy life, but it is not easy to satisfy everyone. Thanks to Mišo and his experience, participants got an overview of the whole process from the identification of the problem, the common planning, budgeting, to the final implementation, and handing over to the public. And all that without the slightest dose of romanticism.
Workshop: Urban space mapping and collective planning with Zuzana Tabačková
Through a series of practical collaborative exercises, including the creation of mapping a public square in the city centre of Kosice, this hands-on workshop engaged a diverse range of people interested in the making of cities. This workshop taught participants the importance and joy of paying attention to a place and one another.
Workshop: Activate public space in Košice with a shopping cart with Juraj Horňák
CIKE's artist in residence Juraj Horňák is fascinated by unused public space. Juraj led a presentation and workshop on the activation of public space. He has been mapping abandoned public areas in Košice for three months, using a specially adapted shopping cart that carries some packets of sugar and a carrot juice, giving the spaces a new, temporary look.
Take a look at the detailed description of these events on the Creative Industry Kosice website.