Organised by the non-profit organisation hablarenarte, the Urban Exploration Madrid is a journey around the city through a series of video-essays for, by, with. cultural policies and childhood which culminates a long-term field research into different strategies for implementing a meaningful participation of children in cultural institutions.
hablarenarte defends the importance of building non-adult-centric participation and decision mechanisms within the cultural spaces that we share. With this purpose, in this video-essay they carry out a series of interviews with researchers, heads of institutions and people linked to citizen initiatives that deal with this issue and its derivatives from different perspectives. Also, and as it seems logical although it is not always put into practice, we listen to the voices of the children themselves, thus trying to understand their needs and expectations.
Taking place at different locations across town, the video-capsules included experiences, reflections and teachings from:
Interview 1: Marta Martínez Muñoz
Sociologist specialising in public policy and children's rights. Listen to Marta's interview here. The city of Madrid and the role of children in it have undergone intense transformations in just a few years. From an incipient recognition of the children's community as political subjects with rights, as well as mere users, to the transformation of the city into a hostile territory and the "disappearance" of minors from its public spaces during the quarantine imposed by the COVID-19. Marta Martínez Muñoz is a sociologist specialising in public policy and children's rights.
Interview 2: Sofía de Juan
Creator and Educator, Collaborator in hablarenarte. Listen to Sofía's interview here. From hablarenarte, an association dedicated to contemporary creation with a special emphasis on the processes of mediation and education in the artistic field, we are interested in knowing what Madrid's cultural institutions are doing for, by and with their youngest audience. Sofía de Juan, a collaborator of hablarenarte, introduces us to the different types of museums and centres in the city and the various strategies they implement in relation to childhood.
Interview 3: Intermediae
With Zoe López Mediero, Head of Content, Intermediae-Matadero Madrid. Miguel Jaenicke, Vivero de Iniciativas Ciudadanas (VIC) Listen to Zoe and Miguels interview here. Intermediae is a public organisation located within the Matadero Madrid cultural complex that has been producing socially committed artistic programming for over ten years. Vivero de Iniciativas Ciudadanas (VIC) is an independent platform that develops projects with a collaborative approach, generating networks and alliances between different communities. In 2018, VIC and Intermediae carried out, together with other agents, Los Madriles, childhood edition, a mapping of the city of Madrid identifying neighbourhood initiatives aimed at children.
Interview 4: Medialab Prado
With Marcos García, Artistic Director of Medialab Prad, Javier Laporta, Mediation Programme Coordinator, Medialab Prado, Sara San Gregorio, Cultural Manager and Researcher. Hear the interviews here. Medialab Prado is an experimental centre that functions as a meeting place for the production of open cultural projects. Its proposals aimed at children, young people and families aim to stimulate learning and creation through playful experiences, collaborative work and experimentation. Medialab Prado also uses its premises as a welcoming space for different groups of young people to meet, as well as providing specific play areas for families.
Interview 5: Vane Sánchez Márquez, Madrid Cría.
Hear Vane's interview here. Throughout the city of Madrid, and especially from 2015 onwards, citizens' initiatives of different scales have emerged, linked to care, to the creation of spaces for co-creation and to the assertion of the central role of children and young people in the city. Madrid Cría is an informal network of parents who have fought for better public spaces for families and free play in the city of Madrid.
Interview 6: Children and Family.
With Carolina Bustamante and Camena Camacho, La Parcería. Hear the interview from La Parcería here. La Parcería was born as a collective dedicated to reflection, creation and action. It is made up of people from a migrant background and it aims to produce cultural projects that are developed around the street, the neighbourhood and public space. Like other independent associations linked to children, La Parcería also presses for cultural policies oriented towards care and participation through its initiatives and in a way that is situated in the territory of the city.
Interview 7: Empower Parents
With Laura Donis, Head of the Empower Parents programme and member of hablarenarte. Hear Laura's interview here. Empower Parents is an educational community formed by families with children with autism spectrum disorder (ASD) and professionals around the ICO Museum that, driven by hablarenarte, aims to transform museum and cultural institutions into more humanised and accessible spaces. The organisation, in this case a museum linked to an official credit institution, thus opens its doors to children with a wider variety of abilities and their carers. In 2020, the team of families takes the reins and creates the Empower Parents Association, with the aim of continuing with the lines of work already initiated and incorporating new cultural and museum institutions into the project.
Interview 8: Kids
With Daniela Legía Serrano, Mira and Luca Marcos, Dario and Joel Santos. Hear their interviews here. In this video-essay we want to hear the voices of the boys and girls themselves; to ask them about their experiences and expectations. With this purpose hablarenarte visited Espacio Abierto in the park of the Quinta de los Molinos. Inaugurated in 2018, Espacio Abierto is a municipal cultural centre entirely dedicated to childhood and adolescence, with play and meeting areas and a program of activities for people from 0 to 18 years old. Hear their interviews here.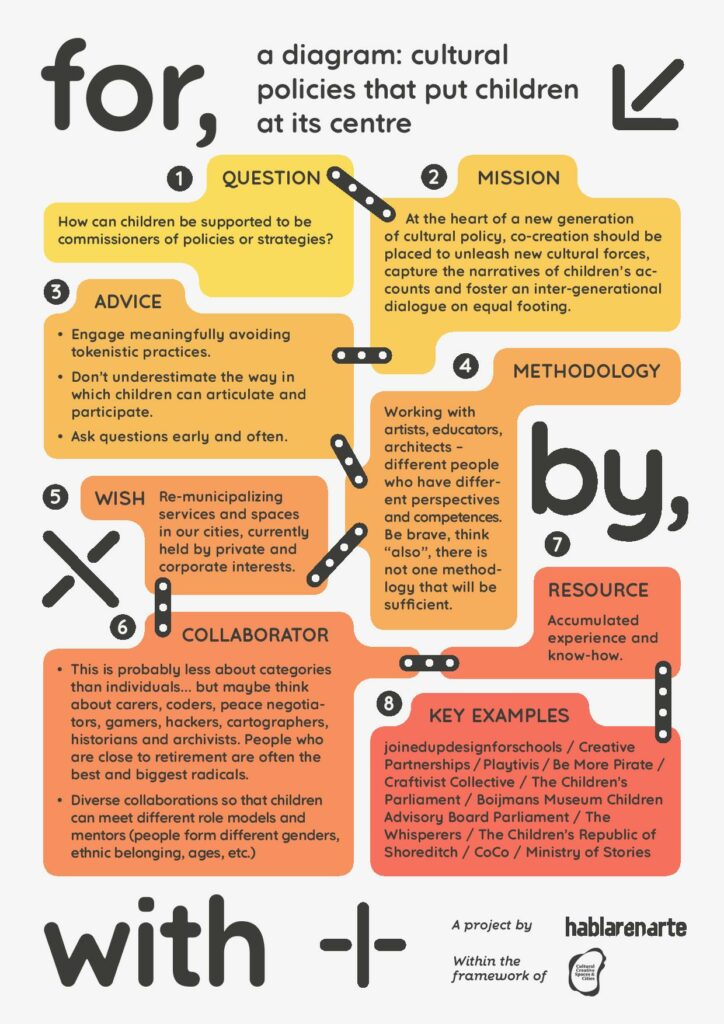 hablarenarte brought together a dynamic event in which they visualised the interviews and, in parallel, asked participants to build together and in real time a diagram that included ideas, proposals and actions for the construction of cultural policies that put children at its centre.