Urban Lab Madrid Traineeship 3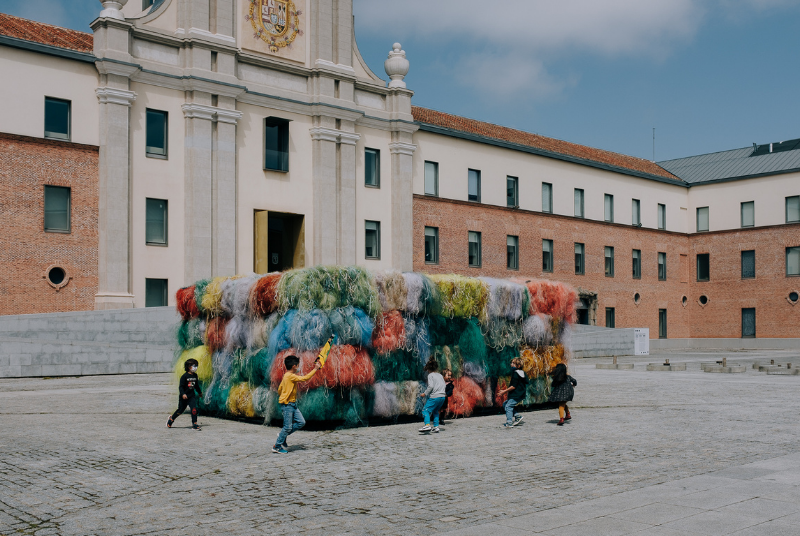 (re)turn to the patio [(re)vuelta al patio]
Objectives
The association hablarenarte seeks to promote listening mechanisms that contribute to fostering the participation of boys and girls as active subjects within and outside cultural institutions. Mechanisms that facilitate a space for listening, dialogue and action in response to the growing invisibility and privatization of parenting in contemporary cities.
(re)turn to the patio residences are part of the European Cultural Creative Spaces and Cities project. As a partner of the project, hablarenarte has focused on the issue of children participation in collaboration with local partners like Medialab Prado, Intermediae Madrid and the Madrid City Council's Sub-Directorate for Innovation. Throughout this time, tools have been explored to sharpen children's listening and strengthen dialogue between cultural institutions and the community.
Background
The residencies organised by hablarenatre are preceded by an investigation and mapping of the immediate social context of the neighbourhood (detecting key initiatives and agents) as a basic mediation tool for the institution, the artists and the community. Each of the residences is linked to the following themes: play + thought + autonomy + space. Through one or several community workshops, two actions will be designed within the framework of a free play laboratory, seeking to reflect on the place that children occupy in cultural spaces and thus promote channels of active and collaborative participation. The resident artists will be hosted at Planta Alta, the residence space of hablarenarte, where various artistic and curatorial research programs are initiated and accompanied.
Promoting gender equality, intergenerational ties, the participation of diverse families and migrants, two types of proposals were designed:
Ephemeral game action, inside Condeduque.
Play action in the street, political consciousness and activism in the neighbourhood.
The long-term objective of (re)turn to the patio is to create more stable communities linked to the cultural centre, beyond the public who occasionally visit it, so that visitors acquire an active role. Ultimately, it is about creating a space where childhood is not understood as other, but as part of an active community that listens and proposes. Given the organic nature of the project, the dates of each phase will be defined throughout the process and can be checked on the Condeduque website.