An Online Toolkit for participatory policy development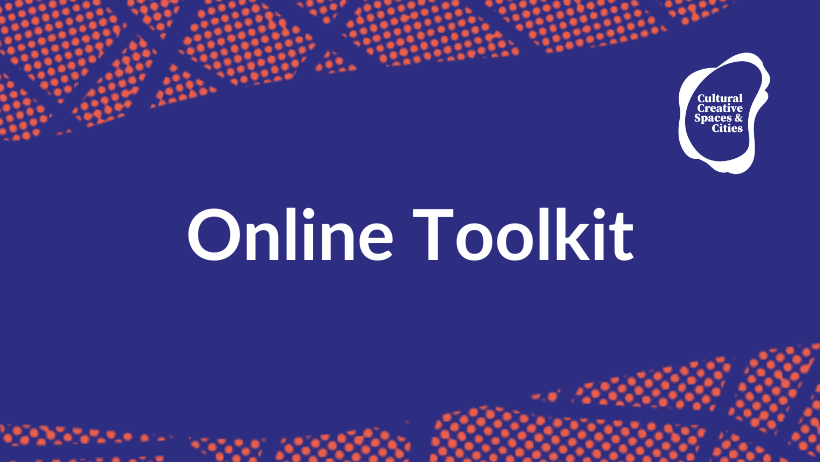 Cultural Creative Spaces and Cities (CCSC) has launched an Online Toolkit. The platform contains a growing number of 80+ resources for creative and cultural organisations and communities in Europe to use for supporting their journey in becoming more 'commons' proof.
11 Themes
11 themes that were central to the development of the Toolkit were identified as part of the process. They can be explored in connection with relevant tools on the Toolkit website:
1. Commons, culture and feminism
2. Commons, culture and diversity
3. Commons, culture and knowledge
4. Commons, culture and public space
5. Commons, culture and ecology
6. Commons, culture and governance
7. Commons, culture and digital infrastructures
8. Commons, culture and politics
9. Commons, culture and legal tools
10. Commons, culture and languages
11. Utopias as tools
Background
The creation of the Toolkit began in 2020 through two co-creative events organised by Cultural Creative Spaces and Cities. During both events, groups of participants and a team of researchers from the University of Antwerp and the European Cultural Foundation engaged in several workshops. Here, they tackled challenges and presented proposals around the concept of the 'Home of Commons' as a tool for bringing Europe closer to its citizens. 
Toolkit benefits
We believe that by taking organisations' knowledge and transforming them into tools, we can collectively find and share new strategies and experiences to build commoning practices. Cultural and creative communities across Europe can use tools to grow their networks for advocacy and collaboration, allowing them to flourish in exciting new ways.
Contribute
The Toolkit is an open platform for cultural organisations and creative communities to propose new tools. And, if you've already used one tool, you have the opportunity to submit a revised version based on your improvements.